The way you work as a freelance animator is influenced by your creative workspace.
Picking the right type of animator's desk for you will make your work processes smoother and feed into a more efficient animation workflow.
But, before rushing out to buy the first animator's desk you see, you should look into the specs that make for really great tables for animators.
In this blog post, we share with you our top animation desk picks to help you find the perfect animator's desk for you.
And if you're wondering why you need an animator's desk in the first place, here are some winning reasons why.
Why Invest in an Animator's Desk?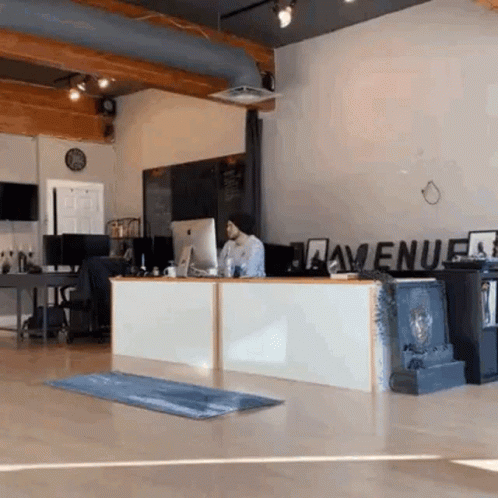 GIF by HarrisonBayman via Tenor
For animators, there are specific features that make a creative workspace more maneuverable.
One person's creative process can be very different from someone else's. For this reason, there's no one-size-fits-all artist's desk that will suit every type of artist.
For example, drawing desks that allow you to tilt the drawing surface and store equipment within easy reach can bring a whole new dimension to what you can achieve in a single workspace.
Similarly, a computer desk for animators should provide enough space for multiple monitors and digital animation tools.
Making the right choice when it comes to an animation desk can mean that you get more done in less time, which will result in you making more money over a shorter period of time.
Does that sound like something you're up for? Take a gander at these desks for animators that can help you ramp up your work efficiency.

The Best Types of Tables for Animators
Digital animation is the main type of animation used in the industry today.
This is because of the ease with which animations can be produced using animation software, and the reduced dependency on consumables—like paper and pencils—that comes with digital animation.
But this doesn't make drawing desks for animators totally obsolete. In fact, many digital animation studios make drawing desks available to artists as a means for them to keep their creativity flowing.
Drawing desks for animators make it easy to step into an alternative work environment, get back to animation basics, and break free from the animation block that may creep in from time to time.
So both digital and old-school tables for animators hold value today. These are key features to look out for before buying either type of animation desk:
a large surface area
adjustability
storage.
You can prioritize these features according to your own preference. But ensuring that your animation desk includes each of these features to some extent is the best way to build on your animation workflow.

GIF by Schitt's Creek via Giphy
Here's a closer look at the best drawing and digital animation desks on the market.

Digital Animation Desks
The top priority for any computer desk for animators is that it should have the right dimensions and ergonomics to allow for the use of the latest animation technology.
Whether it be a modified mousepad or top-of-the-range monitor, you won't want your equipment cramped up on a too-small workspace—or dropping off the sides of your animation desk when it's too cluttered!
The computer desks for animators we list below offer ample space, flexibility, and comfort so that you can worry less about clutter and more about creating!

L-Shaped Desks for Animators
Image by ricardorv30 via Pixabay
One of the most versatile computer desks for animators is the L-shaped desk. This type of animation desk gives you the surface area you need whether you're just placing it along a straight wall or need the L-shape for a corner workspace set up.
One of the top-rated tables for animators for 2022 is the Green Forest L-shaped Gaming and Animation Desk. This modern-style creative workspace features the following specs to make you swoon:
a 44-inch by 58-inch work surface area
a reconfigurable desk setup
the potential to be used as 3 separate desks, one large L-shaped or a U-shaped desk
a CPU stand
moisture-proof and scratch-proof P2 particleboard.
Other L-shaped desk options include the customizable Casaottima L-shaped animator's desk, the more compact Little Tree Rotating Corner Desk, and the classic-style Bush Furniture Cabot L-shaped Desk with Hutch.
Cantilever Tables for Animators
Image by reallywellmadedesks via Pixabay
Cantilever tables are the go-to when you want an animation desk with a solid structure and lots of legroom.
In contrast to four-legged tables for animators, cantilever frames have C-shaped supports.
Cantilever animation desks often offer a wide worktop area. This is ideal for not-so-organized animators who may have some clutter around from time to time.
Office Hippo's cantilever animation desk is the best-rated item of this kind on the market and includes:
a 47-inch by 32-inch worktop surface area
a robust steel frame
a stain-resistant desktop
integrated cable ports.
For a more modern look, consider BPF's glass-topped cantilever animation desk available with black, white, or silver supports.
Looking to Elevate Your Business Skills as an Animator?

Unlock your potential with our FREE Masterclass

Our free masterclass is the perfect opportunity to do just that. You'll learn what you need to take your animation business to the next level.
Animator's Desks With Storage
Image by Maria Orlova via Pexels
Storage is one of the best benefits that a professional animator's desk can offer you.
However, not every good animation desk comes with tons of storage.
If you're a stickler for storage, or are working from a small space and need a desk that can solve your storage problems, the IKEA Lagkapten/Alex has a sleek design and includes:
a 78-inch by 23-inch worktop surface
10 14-inch wide drawers
legroom that allows for up to 2 chairs side by side.
L-shaped animator's desks, like the Little Tree Rotating Corner Desk and the Bush Furniture Cabot L-shaped Desk with Hutch, also make it easy to keep lots of equipment together in a creative workspace.
Modular storage systems are also a great way to add storage to any type of animator's desk.
For a better idea of what your digital animation workspace could look like, watch this video by Howard Wimshurst: Desk Tour of a Professional Animator.
Drawing Desks for Animators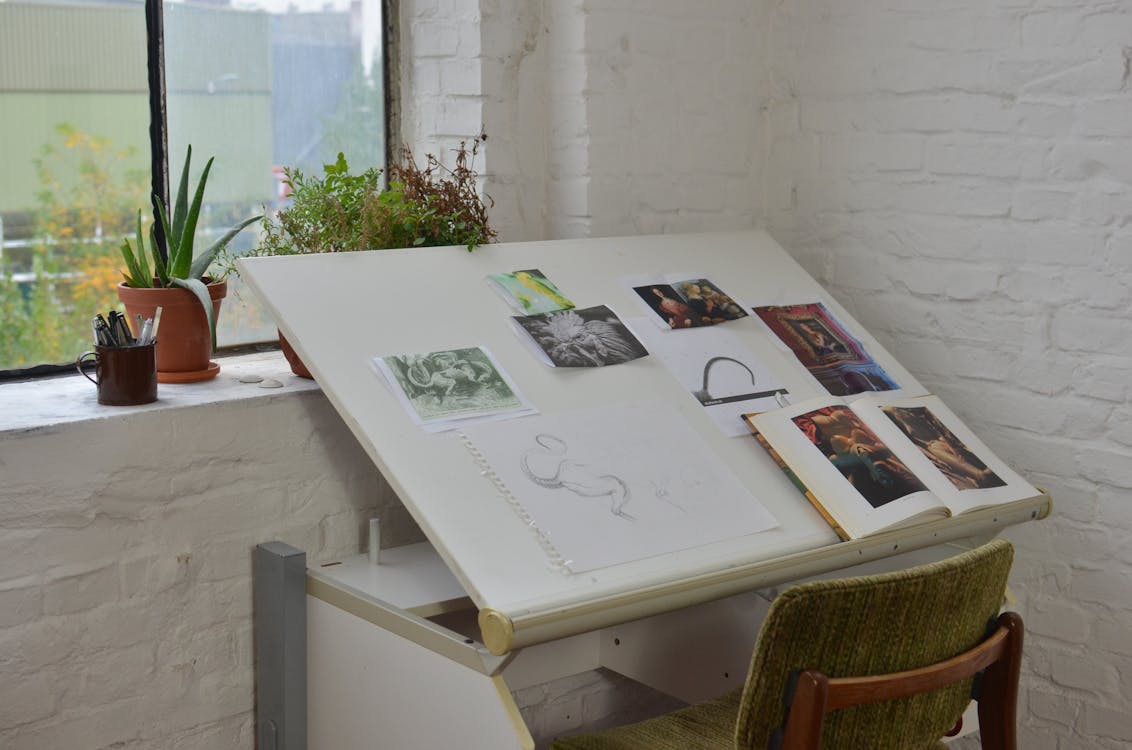 Image by Skylar Kang via Pexels
Hand drawing animations may not be as popular as it once was, but drawing desks for animators can still play a meaningful part in your creative process.
You can kickstart your creativity when it becomes stagnant by switching your stylus and stylus pad for a pencil and paper. You may even be able to complete a small project or two using only hand-drawn animations in the future—which can keep your work from feeling monotonous.
Having a drawing desk for animators will ensure that you can make the most of your traditional animation time. Here are our top three picks for drawing animation desks.
SD Studio Design's Comet Art Animation Desk
This drawing desk for animators has a 36-inch by 24-inch, 40-degree tiltable drawing surface, a sturdy steel frame, and comes with a comfortable padded stool.
This is one of those tables for animators that can be adjusted in height. It also has a 55-inch by 24-inch drawing surface that can tilt to a 45-degree angle.
The Futura Animation Desk by SD Studios
This animation desk makes all your equipment easily accessible in a modern-look drawing table with strategic storage.
Read more about classic tables for animators in this article by Collectors Weekly: In Disney's Golden Age, a Modernist Pioneer Designed the Perfect Animator's Desk.
Upgrade Your Animator's Desk for the Best Work Experience
GIF by amelietour via Giphy
The perfect animation desk should streamline and simplify your everyday work and overall productivity.
Keep this guide on what makes for the best desk for animators close by, and start investing in equipment that will add to your success as a freelance animator.
And once you've set up a better creative experience, think about how you can bring efficiency to the business side of your animation business too. Get a headstart by enrolling in our free masterclass, downloading our free marketing handbook, and checking out our blog on "How to Start an Animation Studio"!