It's no secret that the Disney animators within Walt Disney animation studios have created any number of timeless classics over the past century and there is a huge amount that every animator, either aspiring or professional, can learn from the company, the animators who work there, and the art that gets released.
It's also well known (or at least should be) amongst those who have worked in the animation industry that Disney has 12 rules or principles of animation, most if not all of which animators today should follow in one way or another.
What a lot of people don't know is that nine specific individuals were the first to derive these principles based on the manner in which they worked on the early Disney classics.
It was the first Disney Legends, also known as the Nine Old Men, who pioneered Disney's animation studio and gave us these 12 principles that we use today.
In this blog, we're not going to cover these rules exactly, but rather give you some inside info into what makes Disney animation so incredible, and give some tips for success from the legends themselves.
The Nine Old Men: The Original Disney Animators
Image via D23
Knowing your history is important, and we can stand to learn a lot from some of the best the world has to offer. So let's have a bit of a look at some of the earliest Disney animators - those who followed Walt Disney himself!
Acknowledged as Disney Legends, The Nine Old Men were Walt Disney's core animators, some of whom later became directors and were an integral part of Disney's most famous animated cartoons.
They were involved in many of the works released by Disney, all the way from Snow White and the Seven Dwarfs (1937) to The Rescuers (1977).
So let's talk a little bit about The Nine Old Men.
Les Clark (November 17, 1907 – September 12, 1979)
Image via D23
Les Clark specialized in animating Mickey Mouse, as he was the only one of the Nine to have been around since the days of Ub Iwerks. Alongside Walt Disney himself, Ub Iwerks was in charge of Mickey Mouse's animations.
When Iwerks left Disney, Les Clark was put in charge of Mickey Mouse as the lead animator. He was also responsible for animating Pinocchio, Cinderella, Alice (Alice in Wonderland), and Tinkerbell.
Clark worked on animating scenes up until Lady and the Tramp, after which he was promoted to director and worked mainly on short films from 1964.
Marc Davis (March 30, 1913 – January 12, 2000)
Image via D23
Marc Davis started working on Snow White and the Seven Dwarfs and found himself later working on characters such as Bambi and Thumper (Bambi), Tinkerbell (Peter Pan), Aurora, Maleficent and the raven (Sleeping Beauty), and Cruella de Vil (One Hundred and One Dalmations).
From 1961, after his work on One Hundred and One Dalmations, Davis worked solely in Walt Disney Imagineering and was responsible for the character design on both the Haunted House and Pirates of the Caribean attractions in Disneyland until he retired in 1978.
Ollie Johnston (October 31, 1912 – April 14, 2008)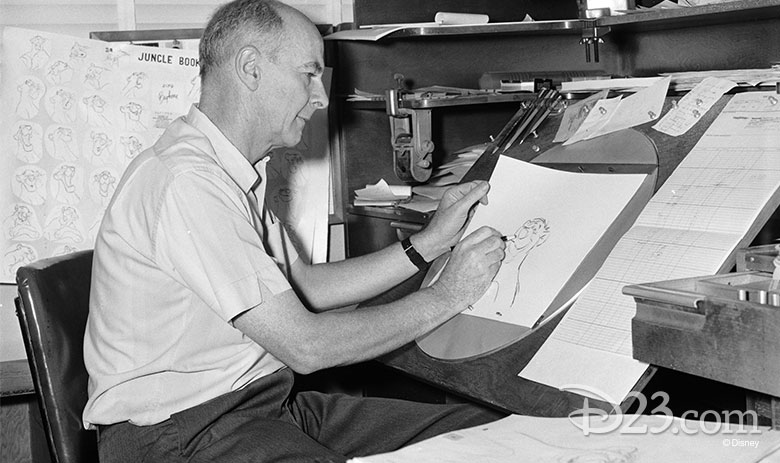 Image via D23
Ollie Johnston also started working on Snow White and the Seven Dwarfs. His character works include Mr. Smee (Peter Pan), the Stepsisters (Cinderella), the District Attorney and Ichabod Crane (The Adventures of Ichabod and Mr. Toad), and Sir Hiss (Robin Hood).
Johnston completed his work as an animator on The Rescuers and was honored with a caricature as one of the characters, Rufus.
Johnston also worked alongside an additional member of the Nine, Frank Thomas on "The Illusion of Life Disney Animation", considered today to be the bible of animation.
The two of them also worked on The Disney Villian, which revealed some behind-the-scenes information on the villains within Disney's animated films.
Gif by boomunderground via Giphy
Milt Kahl (March 22, 1909 – April 19, 1987)
Image via D23
Milt Kahl, like the others, started with Snow White and worked on several heroes of early Disney movies such as Pinocchio, Tigger (The Many Adventures of Winnie the Pooh), Peter Pan, and Slue-Foot Sue (Melody Time).
Kahl found himself finalizing the looks of most of the characters found throughout the Disney films due to his finesse and his "angular" style, from which he took inspiration from Picasso and Ronald Searle.
Kahl also found himself working on villains such as Madame Mim (The Sword and the Stone), Shere Khan (The Jungle Book), Edgar the Butler (The Aristocats), the Sherrif of Nottingham (Robin Hood), and Madame Medusa (The Rescuers).
Gif by amoviediary via Giphy
Ward Kimball (March 4, 1914 – July 8, 2002)
Image via Cartoon Brew
Joined in 1934
Retired 1973
Ward Kimball's works include Jimminy Cricket (Pinocchio), Lucifer, Jaq, and Gus (Cinderella), and the Mad Hatter and Cheshire Cat (Alice in Wonderland).
Kimball was fabled as being more of a comic and wild animator, showing a unique style of animation. Walt Disney himself labeled him a genius in the world of animation, and he is known as one of the very best to have worked at the company.
He is also very well known for a satirical, non-Disney anti-Vietnam War short called "Escalation".
Gif by co-streetlove via Giphy
Eric Larson (September 3, 1905 – October 25, 1988)
Image via D23
Eric Larson is responsible for having worked on Peg (The Lady and the Tramp), the Vultures (The Jungle Book), and Brer Rabbit, Brer Fox, and Brer Bear (Song of the South).
Larson is also responsible for having animated the iconic scene of Peter Pan's flight over London to Neverland in Peter Pan.
Larson was considered one of the top animators and was put in charge of scouting and training new hireable talent in the 1970s. Many of the top animators of the 70s and 80s that worked in Disney were trained by him.
Gif by broccoleafveins via Giphy
John Lounsberry (March 9, 1911 – February 13, 1976)
Image via D23
John Lounsberry, so affectionately called "Louns", has influenced and inspired a great number of animators over the years.
Lounsberry was very well known for his stretchy, squashy style of animation, which encompasses one of the 12 principles of animation.
Lounsberry has a plethora of work to his name, including J. Worthington Foulfellow and Gideon (Pinocchio), Ben Ali Gator (Fantasia), George Darling (Peter Pan) a fair number of the dogs in Lady and the Tramp, the Kings Stefan, and Hubert (Sleeping Beauty) and the Elephants in The Jungle Book.
In fact, he is credited for having worked on nearly all of the animated films to come out of Disney.
He also worked in the 1970s as a director and co-director on "Winnie the Pooh and Tigger Too", and "The Rescuers" respectively, which was his last film with Disney.
Gif by carolinedoesdcp via Giphy
Woolie Reitherman (June 26, 1909 – May 22, 1985)
Image via D23
Joined in 1933 initially as an animator
Reitherman is known for having worked on Monstro (Pinocchio), The Headless Horseman (The Adventures of Ichabod and Mr. Toad), the Crocodile (Peter Pan), and the Rat (Lady and the Tramp).
In 1950 he was promoted to director and was responsible for having produced all of the Disney films after the death of Walt Disney, until his retirement and death in 1985.
Reitherman found himself the center of a large amount of internal controversy because of his act of recycling animations, much to the dismay of some of his colleagues.
Some scenes in popular films such as Snow White were reused to save both time and money when work was being done on Robin Hood.
Another example of recycling by Disney animators includes animations from Winnie the Pooh, being used in the Jungle Book.
Frank Thomas (September 5, 1912 – September 8, 2004)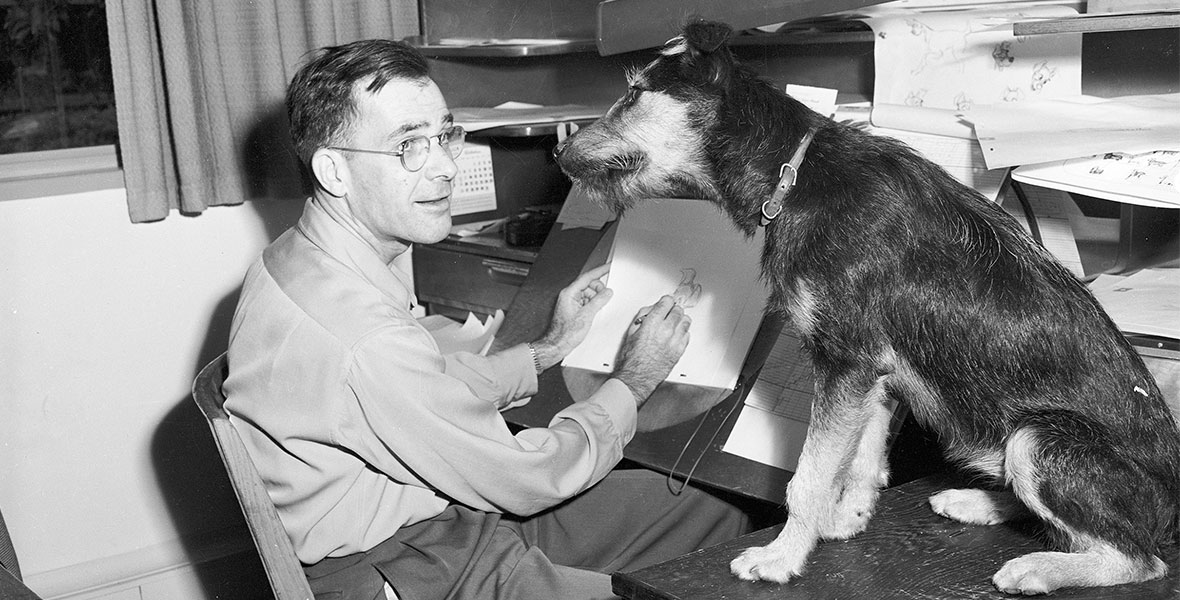 Image via D23
Frank Thomas, as mentioned earlier, co-authored the book "The Illusion of Life" alongside Ollie Johnston.
Much like Ward Kimball, he is responsible for the German dialogue scenes in a non-Disney-affiliated short called Education for Death, a World War II propaganda film. During World War II he enlisted in the Air Force and was responsible for animating training videos.
Thomas has a large amount of work credited to him and worked on the Wicked Stepmother (Cinderella), the Queen of Hearts (Alice in Wonderland), and Captain Hook (Peter Pan).
He is also responsible for the forever-to-be-remembered spaghetti scene in Lady and the Tramp.
The Secrets of Disney's Animation Studio's Success
Image by Kristina Flour via Unsplash
New and old, the Disney animators that have worked for Disney Animation Studio have inspired so many around the world and have worked hard to ensure a successful future for the company.
Now that you know a little about the history of the original Nine, let's talk about some secrets that Disney animators over the years have shared with the world.
1. Never Let Failure Stop You From Trying To Succeed
Image by Gerd Altmann via Pexels
Probably the best piece of life advice you can follow, regardless of one's thoughts on its application in the world of animation. "Our greatest weakness", as Thomas Edison once said, "lies in giving up. The most certain way to succeed is always to try just one more time".
This can be said almost certainly of Disney Studios and the Disney animators during the 1940s.
During World War 2, Disney Studios, much like many businesses at the time, went through a severely damaging time, with fluctuating revenues and a huge employee loss.
Through that time, they continued to create shorts and films in new and different ways, improving on their art and very effectively bouncing back from the brink. They have since become the biggest and most successful animation studio in the world.
If that's not some level of inspiration, who knows what is?
2. Focus On Improving For The Love Of The Art
Image by Brett Jordan via Pexels
When starting as an animator, and even while working as a full-time animator, you can get sucked into working strictly to make ends meet. As important as it is to make money with your craft, it's equally important to remember to work to improve.
It's no secret that one of the best ways to secure your future is to prepare for it, and if you're not working consistently on improving your skills and bettering your craft, you're not working on your future.
Likewise, if you're not enjoying your craft, you're doing something wrong. And if you can't figure out a way to learn from your mistakes, you're also doing something wrong. You need to be working on figuring out what it is that is rendering you unable to improve and focus on it.
The last thing you want is to end up sitting in a rut, in a dead-end job with no drive to produce consistently improving work.
Without a doubt, the best thing about improving at your craft is that success is almost always just around the corner.
3. Consider Spending Some Time Learning The Human Body
Image of Karl Gnass via Fast Company
One of the most interesting bits of insider info into Disney's Animation Studio is that they host human drawing classes for their animators.
Disney has since 1932 offered free in-studio life drawing classes for their animators; that's now 90 years.
It doesn't take much to understand why, to which the incredible life-like quality of their animations can testify.
An amazing tradition continued to this day, some teachers run daily nude and clothed life drawing classes to assist animators in realizing the fundamentals of the human body and form, as well as the interactions that it has with clothing.
The growing encroachment of computer-generated (CG) rendering has allowed some circles to render (no pun intended) such practices obsolete, but these teachers at Disney hammer home the necessity of classical drawing as a practice to better your skills in animation.
A former DisneyTV storyboard artist, Karl Gnass is quoted as saying: "You can draw animation and gesture without life drawing, but life drawing skills give you proportion, structure, perspective, and a certain vitality through rhythmic gestures".
4. The Act Of Recycling And Reusing Animations Is Not Always Lazy
In the early days of hand-drawn animation, it came to pass that several animations ended up being recycled and repurposed in later films.
A classic example of Disney animators making use of this tactic can be seen in Snow White's animations being used for the Maid Marian character's animations in Robin Hood.
Despite a large amount of early controversy surrounding the idea of "recycling" animations, it truly saves a heck of a lot of time and effort, especially if you're a studio animator working towards strict deadlines.
Part of your craft is learning how to make use of the things you've learned over the years. The skills you possess are a culmination of all the work you've done in your career and all you've learned from drawing and animating.
Sometimes repurposing assets, animations, or even sketches can be a great help in smoothening the overall process and allow you to save on not only time but money as well.
5. Look To Learn From Other Animators As Much As Possible
Image by Visual Tag Mx via Pexels
You need to learn quickly that you're not alone in this world. There are a large number of artists and animators that work all around the world, and while that may seem scary, it can also be comforting.
You will almost always be able to find someone struggling with the same thing you're struggling with, or someone who knows exactly how to fix the thing you need fixing. You've gotta learn to network.
The best part of working as an animator in today's world is that there is any number of teachers, mentors, and masterclasses on any number of platforms around the world.
It has been noted that there is a trend amongst younger artists and animators to seek an easier way to make their work appear as is if someone else made it, studying the works and styles of more experienced, professional animators, and copying it as opposed to developing their own styles.
Drawing inspiration from others in your industry isn't at all close to being a bad thing. In fact, it's exactly that which helps you derive your own style, but you need to make sure you're practicing as much as you're learning.
Art is almost always deriving inspiration from something, or someone, and you should use as many resources at your disposal as possible to figure out how to be the best you can be at what you do.
6. Don't Expect To Create A Masterpiece In A Short Amount Of Time
It takes many years and hundreds of hours of work from a large number of people to create the work that comes out of the Disney animation studio. In the olden days, animators were hand-drawing everything and films took years to produce.
You can't possibly expect to produce that type of content at that level all by yourself, in the time constraints that come with being a freelance animator.
Even if you're working in a studio, unless you're creating massive projects on yearly basis, you're still going to have to focus on producing the best possible work with the people you're working with.
Because of this, you shouldn't put so much pressure on yourself, and aim to produce the best work you can, not what others expect.
You Can Learn A Lot From Disney Animators
Disney Animation Studios has been around a long time, and it's no secret that they are the most influential animation studio around.
With the help of the aptly named "Nine Old Men", Disney Studios produced some of the most famous pieces of animated cinema in history and has inspired so many internal Disney animators, as well as animators from all walks of life.
Not just that, but they are responsible for the 12 Principles of Animation, as well as the book "The Illusion of Life: Disney Animation", which is considered the bible of animation. Their skills and knowledge have been passed down over generations and are now considered the keys to success.
One of the most important things that both older and more modern Disney animators have said over the years, is they don't actually finish movies. They just release them. Don't be afraid to appear imperfect in any way; no one is perfect after all.
For more info and insight into the world of professional studio animation and the work that goes into making large, high-quality animated projects, be sure to follow our blogs, check out our free masterclass, download a copy of our free marketing handbook, and check out our blog on "How to Start an Animation Studio"!